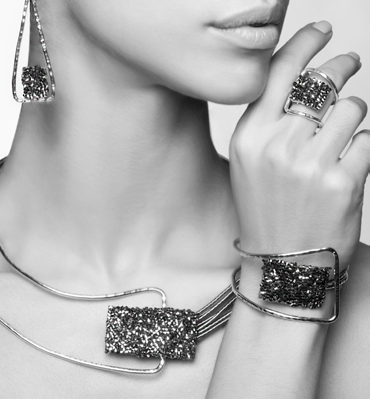 The company Catherine Bijoux specializes in the field of fashion jewelry since 1999. Today, you can find its products in over 200 multi-brand stores in Greece, while it has a dynamic presence in countries such as Italy, Spain, Japan, Canada, Belgium etc. All products are handmade, designed and manufactured in Greece. Each collection includes necklaces, bracelets, earrings and rings. The high quality of Catherine Bijoux jewelry, the result of careful design and excellent selection of hypoallergenic materials, combined with productive flexibility and experienced staff are the key elements of the brand's superiority.
VISION
In Catherine bijoux family we dream, we design, we passionately create special jewelry that make every woman feel beautiful and special at every moment. With an exciting variety of choices from necklaces, bracelets, earrings and rings through collections that are constantly updated.
MATERIALS
ΤThe metal elements we use are mostly made of brass and are skin friendly. They do not contain lead and nickel. We use the shine from the crystals, the naturalness from the mineral stones, the rock mood of the skin, the color variety from the enamels and we create wonderful combinations with details for jewelry that make the difference.
PRODUCTION
Here, in our workshop in Athens, we hammered by hand the metal, shape it, make welds with the power of fire, plaster with 24K gold, rose gold and silver plating and give shape and life to jewelry that can stand the test of time.